---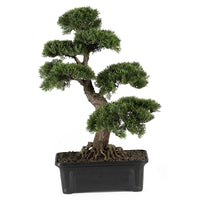 SKU: 4103
Treasure the beauty of this highly detailed Cedar bonsai. With soft leaves and a partially-exposed root system, this captivating two foot tall tree is sure to catch your eye. Situated in a rectangular shaped planter filled with artificial dirt, it's the ideal size for an office or small living space. Both friends and family will be delighted to receive this enchanting tree as a gift for any occasion.
Specifications
Width: 16 In.
Height: 2 Ft.
Depth: 11 In.
Pot Size: W: 8.25 in, H: 4.75 in, L: 12.75 in
Planter, vase or basket is included in the height.