---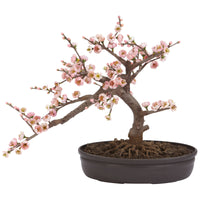 SKU: 4764
A truly beautiful specimen symbolizing the botanical beauty of Japan (and other parts of the world as well). Staying low to the ground at 15 inches, this Cherry Blossom Bonsai is perfect for those seeking elegance and tranquility. The varied pastel colors bring a sense of piece to all who behold its splendor, and since its maintenance free in its own decorative pot, you never have to worry about the painstaking upkeep needed with other bonsai.
Specifications
Height: 15 In.
Width: 17.5 In.
Depth: 10 In.
Pot Size: W: 11 in, H: 2.5 in, D: 6.5 in
17.5 x 17.5 x 10.125
Planter, vase or basket is included in the height.