---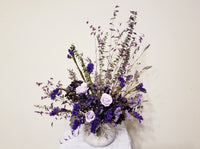 Purple brings happiness and we need a lot of that these days! Bring a smile to a loved one's face with this stunning Violet Fields Arrangements with Purple and lavender color. This arrangement of flowers combines the elegant shades of purple Hydrangeas preserved Roses, Statice, Misty, Baby Blue Eucalyptus, and Wild Oats. This arrangement can be kept up to 3 or more years. The perfect flower gift for a special occasion or loved one.

***ENTER CARD MESSAGE UNDER SPECAIL INTRUCTION, PLEASE INDICATE SENDER AND RECEIVER NAME.

*** PLEASE READ
FLOWER CARE: Your dried flowers should be stored in a cool dry place, away from direct sunlight to prevent discoloration or fading. • If your dried flower becomes dusty, use a hair dryer on a low setting from a moderate distance or a pipe cleaner to gently remove the dust.
NOTE: All selections shown are representative of the arrangements that we can prepare for you, however due to flower availability and seasonal variations we may not be able to fill your order exactly as illustrated. Your order will be filled to the specified amount with products of an equal or greater value. As Flower are sensitive items, the size, shade, bloom, and color might difference from the image shown.