---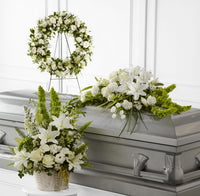 SKU: W1002
This funeral package includes 3 different arrangements.  Design in shades of white and cream, using Lilies, Ranunculus, Tulips, Roses, Asters and greenery Includes a half casket spray, a standing wreath, and a funeral basket. By selecting multiple items, you can save on the total! 
Package includes:
One Half Casket Spray (Approximately Width 40 X 24 Deep")
One Basket Arrangement (Approximately Height 28" & Width 22")
One Standing Wreath (Approximately 22" Width)
Note: All selections shown are representative of the arrangements that we can prepare for you, however due to flower availability and seasonal variations we may not be able to fill your order exactly as illustrated. Your order will be filled to the specified amount with products of an equal or greater value.
Please note: Exact delivery times during the day are not possible. You may request a specific time, such as morning or afternoon, we'll try to meet the request, but we cannot guarantee it since some communities have deliveries only once a day.